STOP CMS ADVOCACY TOOLKIT
April 18, 2016
As NORM continues to work with many partners to stop the Medicare ASP fix I wanted to share with you one of the tools available.
The attached Advocacy Toolkit has been developed to customize your responses to fit your specialty. Included is a fact sheet, a letter you can customize from you to your patients (the can be printed on your practice letterhead), a list of talking points,  a sample email and a phone number for those offices and patients who may prefer to make a phone call to voice your concerns.
As an organization NORM represents hundreds of physicians and their patients. It is our responsibility to breakdown access to care barriers that may impact our patients. Let you voice be heard!
We are asking you to sign petitions, send letters and make phone calls to let your government officials know you oppose the CMS and CMMI Medicare Part B "Demonstration" project. Your ask is for CMS and CMMI to delay the implementation of the proposed payment model until the impact to patient access can be thoroughly understood.
UPDATE AND NICA LETTER
March 17, 2016
From NORM President Ethel Owen:
I'm pleased to share with our membership that NORM was one of the 316 organizations signing off on the attached letter addressing the CMMS March 8, 2016 proposed rule implementing a new Medicare Part B payment model.
Please review the letter and pass it along to your doctors. I encourage each of you to  get your doctors involved and comment during the CMS comment period ending May 9, 2016.
NORM will  continue to release information as it becomes available. We are working with many of our medical partners across may specialties to continue to provide access to care for our patients
Stay strong and involved with NORM!
Ethel Owen
NORM President
March 15, 2016
From the National Infusion Center Association, please read the latest on the Medicare proposing a trial for an alternate payment formula on the Part B benefit.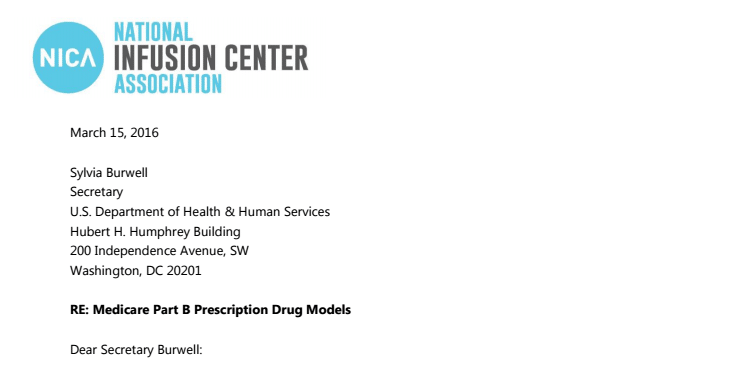 NICA Letter – Medicare Part B Payment Demonstration
April 20, 2016 UPDATE:
Please continue encouraging engagement through our Medicare Part B Advocacy Portal (https://infusioncenter.org/fixpartb) so we can target members of Congress and encourage bipartisan support.
Posted March 14, 2016:
URGENT NOTICE FROM THE NORM BOARD!
This is a follow up email to the news that broke on Tuesday about Medicare proposing a trial for an alternate payment formula on the Part B benefit.  The NORM board just wrapped up a 3-day work session and this was a scorchingly hot topic of conversation.  We are connecting with other rheumatology-based organizations and industry partners who have a vested interest in the proposed changes to better understand what is at stake for us.  At first glance, this proposal certainly threatens the financial viability of in-office treatments.
Who Could Be Affected:  Medical practices who buy and bill medications (any J Code) and bills the Part B Medicare Benefit
What Is Happening: CMS has proposed an alternate payment formula trial for buy & bill drugs on the Medicare Part B benefit.  This is at the federal government level so all MAC carriers (Cahaba, CGS, First Coast, Noridian, Novitas, NGS, Palmetto & WPS) will participate.   At this time, it is not clear how many medical entities will be forced under the alternate payment formula trial nor how they will be selected.
Those in the alternate payment formula trial will receive a reduced percentage on top of the Average Sale Price (ASP) from 6% to 2.5%.  However, those receiving 2.5% above ASP will also receive a flat-fee of $16.80 per drug per day.
Additionally, there is every indication that sequestration will continue to apply.  So those on the 2.5%+$16.80 model will actually receive more like 0.5%+$16.80
Timeline:  The proposed rule is now open for a 60-day comment period. CMS is accepting comment on the proposed rule through May 9, 2016.
You may submit electronic comments on this regulation to http://www.regulations.gov  Follow the "Submit a comment" instructions.
Or by regular mail. You may mail written comments to the following address ONLY:
Centers for Medicare & Medicaid Services,
Department of Health and Human Services,
Attention: CMS-1670-P,
P.O. Box 8016,
Baltimore, MD 21244-8016.
Please allow sufficient time for mailed comments to be received before the close of the comment period.
NORM intends to assist members in understanding this proposal and to provide tools to help our members advocate for their patients and practices.   Stay tuned for more information on the listserv, on our website (news tab) and via social media.
MORE INFO:
CMS Press Release: https://www.cms.gov/Newsroom/MediaReleaseDatabase/Press-releases/2016-Press-releases-items/2016-03-08.html
CMS Fact Sheet:  https://www.cms.gov/Newsroom/MediaReleaseDatabase/Fact-sheets/2016-Fact-sheets-items/2016-03-08.html
CMS Beneficiaries Fact Sheet: https://www.cms.gov/Newsroom/MediaReleaseDatabase/Fact-sheets/2016-Fact-sheets-items/2016-03-08-02.html
Proposed Rule: https://s3.amazonaws.com/public-inspection.federalregister.gov/2016-05459.pdf
Coalition of State Rheumatology Organization's (CSRO) Response: http://cqrcengage.com/csro/file/2pEZe27wfos/CSRO%20ASP%20Coalition%20Cover%20Letter%20re%20ASP%20Demo-2.pdf
CSRO Letter:
http://csro.info/app/onestep-write-a-letter?3&engagementId=187294 
Posted
by